In Pompeii, the Casa dei Vettii reopens to the public, after years of closure due to complex restoration work. It is one of the richest and best-known houses in the Campanian town buried by the eruption of Vesuvius in 79 AD The restored house will be inaugurated on 22 November next by the Minister of Culture Gennaro Sangiuliano. Also present will be the director of the Pompeii Park, Gabriel Zuchtriegel, and the general director of the MiC museums, Massimo Osanna.
House of the Vettii
Located in the richest part of the city, right in front of another famous house, that of the golden Cupids, the House of the Vettii belonged to the brothers Aulus Vettius Restituto and Aulus Vettius Conviva. The two brothers were freedmen who became rich in the trade of wine, wealthy to the point of entering Pompeian society with all the honors. So much so that one of them was part of the college of Augustali and the other was a candidate for the position of aedile. Purchased the house, which existed from the second century. BC, the two had it restored by enriching it with a garden where statues, fountains and water games abounded. In all the rooms of this fabulous house there were refined paintings that covered the walls up to the ceiling, executed with the eclecticism and magnificence of the so-called "fourth style", what was in fashion in the first half of the first century. A.D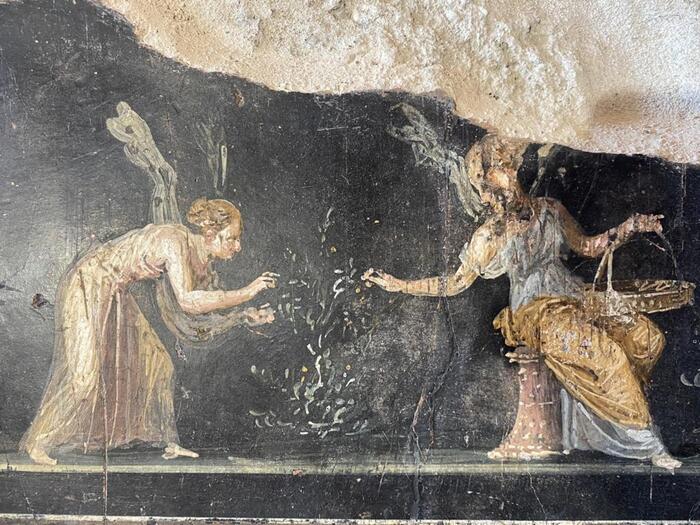 In the various rooms around the first atrium or facing the peristyle, mythological and even erotic scenes abound, accompanied by a myriad of details. Among all a sort of festoon with cupids engaged in the preparation of a banquet. The two safes that were in the atrium are also impressive, perhaps to underline the wealth of the owners. Already affected by works in 1995, when the problem created by the concrete roofs of the 50s was evident, the house was partially reopened in 2016, after 12 years of closure and then closed again after 3 years for further restoration. Interventions that involved the roofing but also the paintings, with the removal of the patina created by previous restorations.

Pompeii, the Casa dei Vettii reopens to the public last edit: 2022-11-19T12:30:00+01:00 da